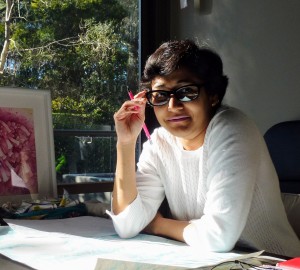 ARTIST: GIRIJA KULKARNI
"I as a visual artist seek the medium of painting to express myself, honestly this is the better way for me to express"! Colors are my comfort zone, Color palette, brushes, painting mediums, variety of surfaces to paint on… you can go on. I believe it's the ability to reincarnate the mind through artistic expression gives rise to an Art Form. In simple words, "I am an Artist".
"I am not running to reach anywhere, enjoying the process of learning new things in the journey of art. Constantly searching the new mediums to express my thoughts through my art. I love the pain of creation; the process of an idea is taking shape, many times knowing the end result but sometimes without knowing the end result! And feel that restlessness to reach that point of the end result! You are welcome to join me on this creative path, as this journey is endless!