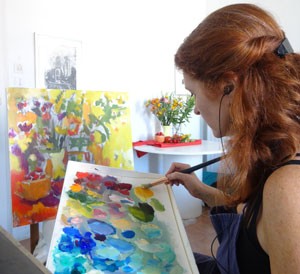 ARTIST: KRISTINE BALLARD
Saturated colour and strong movement are signature strokes of a style I call 'Fragmatism.' Images float, dissolve and fragment across the canvas.
Specialising in semi-abstract still life and landscape paintings. I want to create a sense of energy in every piece. My aim is to take the 'still out of still life.'
Connections to our environment and the objects that fill them, are themes that continue to inspire my creative practice. Translating the vibrancy of life through colour is my life long quest.
Based in Sydney, I work from my home studio in the inner west suburb of Sydenham. Trained originally as a Graphic Designer my transition to artist was always an aspiration. I have exhibited extensively both nationally and internationally and made final selection in many art competitions and shows throughout my art career. Completing art residencies in New York, Venice and Fiji has played an important part of my art practice. I also enjoy helping others find their own creative path, this I do as the Arts presenter of EdTV Australia, developing Co-Kreate, a youth art mentoring program, conducting art functions and workshops and teaching one-to-one art classes.